One of the 4Ps of the marketing mix is putting your product in front of your target audience. Amazon uses Promotions features to discount the shoppers. While knocking off prices has plenty of benefits, using them without a strategy can hurt your brand.
Amazon Promotions include discount features like deals, coupons, prime discounts, and other promos. While all have their pros and cons, choosing the most effective promotional strategy can be a challenge. Sellers don't know what will give them the maximum ROI. However, by using the right tools, you can forecast and calculate costs even before starting a promotional campaign.
In this blog, we discuss how to strategize your Amazon promotions and what can predict the success of your promotions campaign.
What do Amazon Promotions do?
Amazon Promotions increase your products' visibility, and if done right leads to more sales. Amazon Promotions increase visibility in two ways: listing products on other high-traffic pages such as deal pages and adding a promotional tag to highlight the price or discount as seen in the image below.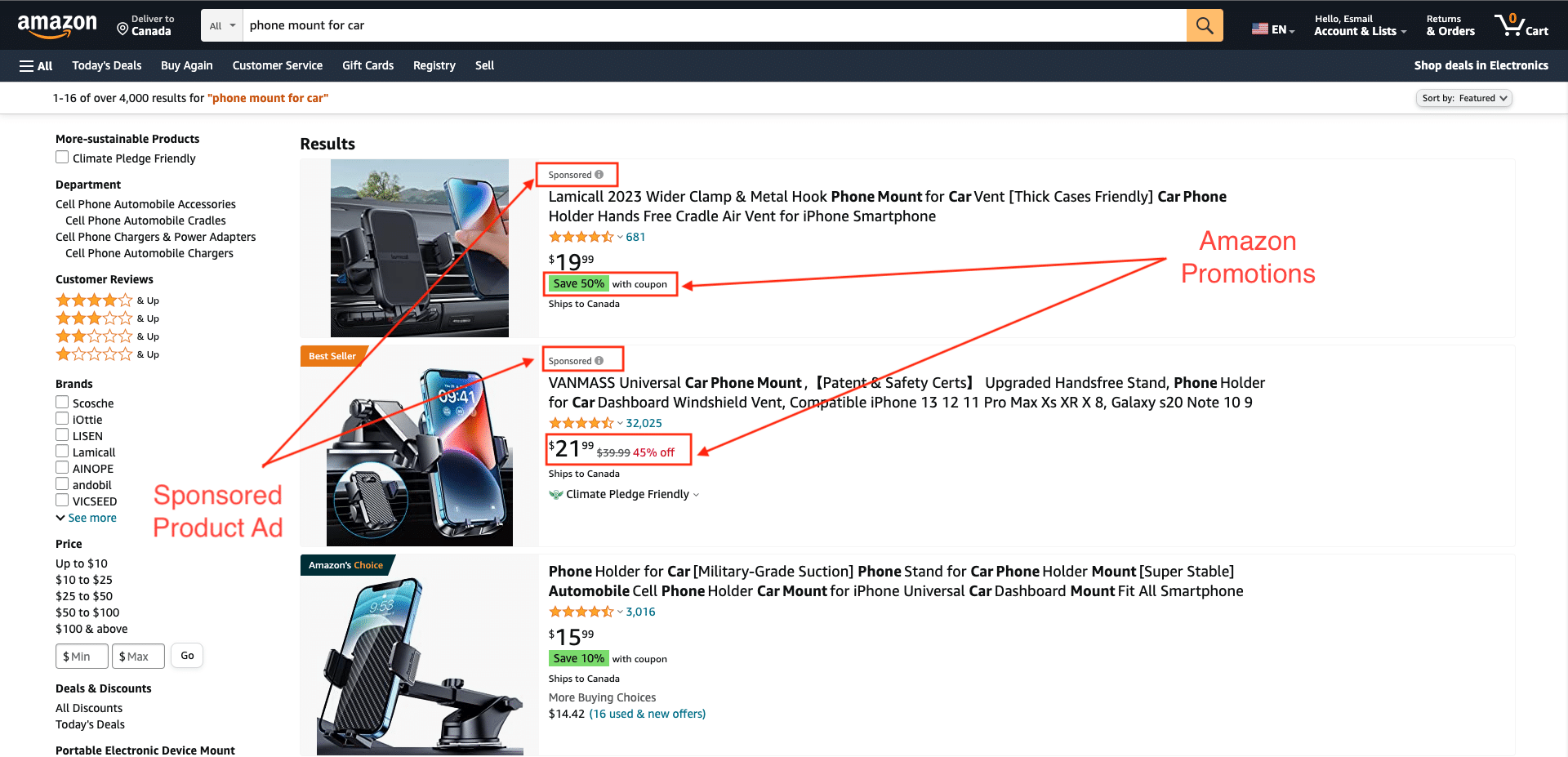 Amazon Promotions performance varies from category to category. Here are a few numbers on the impact of promotions:
One of Trellis' rug sellers, spent $21,000 in Amazon deals and gained $82,000 in revenue.

Kaspien

spent $70,000 on coupons in 2020 and generated $385,000 equating to 5.5 in ROAS.

Ecomcrew

A/B tested 15 SKUs through Amazon lightning deals across the United States and Canada, and saw a sales increase of 118.75% and 180%, respectively.
Who should use Amazon Promotions?
In eCommerce merchandising, advertising products maintain sales momentum, whereas Promotions boost sales. While a growing brand can use promotions to rack up sales and reviews, an established brand can move excess inventory.
Regardless of the brand size and the product lifecycle, Amazon Promotions help increase sales velocity which is used by both growing and established brands.
Amazon Promotions for growing brands
Amazon Promotions are critical for growing brands on Amazon to get sales, reviews, and a better BSR. Therefore, for successful product launches on Amazon, Promotions should be key part of the strategy.
Help launch products
One of the biggest challenges for Amazon sellers is launching a product successfully. An effective launch on Amazon could mean getting some sales, reviews, and a BSR rank on a relevant category.
Promotions help product launches by attracting consumers through discounted prices. Sellers at the launch stage are willing to sacrifice margins and get some early traction on the product.
For example, a consumer searches for a phone mount for a car and the average price is $20. Alternatively, the shopper can find similar ones at a 50% discount. Despite not having enough reviews, the offer seems lucrative. For products that serve only one purpose and can't differentiate through anything other than price, there is a high chance that the shopper would opt for the deal.
Once brands start to accumulate sales and reviews through Promotions, there is a higher chance of consumers purchasing leading to an increased conversion rate. As this creates a snowball effect for the product, brands can gradually lower discount rates and make more profit.
Getting more reviews
Many factors contribute to a high conversion rate, including price, images, quality content, etc. However, without reviews products will have trouble selling.
Shoppers look for social proof in reviews. Just a few positive reviews can significantly impact conversions. So how many reviews do sellers target before starting to tune out the promotions campaign?
DataHawk shows conversion rates increase to 19% with 10,000 reviews. However, conversion rates rise to 14% with only 10-20 reviews. This small difference in conversion rate highlights diminishing returns after about 15 reviews From then on, you can leverage reviews less frequently unless there's another specific reason to do so.
Increase sales and BSR
Amazon promotions are used to boost sales. The number of product sales is inversely correlated with the Best Seller Rank (BSR). It is a metric that reflects how well a product sells in a particular category on Amazon. Promotions improve the BSR, which is closely tracked by many sellers.
Most Amazon sellers see BSR as a KPI which helps them track product ranking in a particular category. Despite BSR fluctuating due to sales inconsistency, sellers like to see it improve in their category.
Organic sales and growth
Better organic ranking leads to more organic sales. As there is a strong correlation between BSR and organic rank on Amazon, a strong sales history indicates a brand valued by Amazon's customers encouraging the platform to place you higher in organic rankings.
This will attract more organic traffic, and snowball into more sales.
Promotional tailwind effect and sales uplift
After a promotion ends, sellers may see a tailwind effect where sales are higher than they were before the deal due to more organic traffic, and a better BSR for some time afterward. The prolonged sales after the campaign ends is a tailwind effect, whereas an increase in sales is the uplift.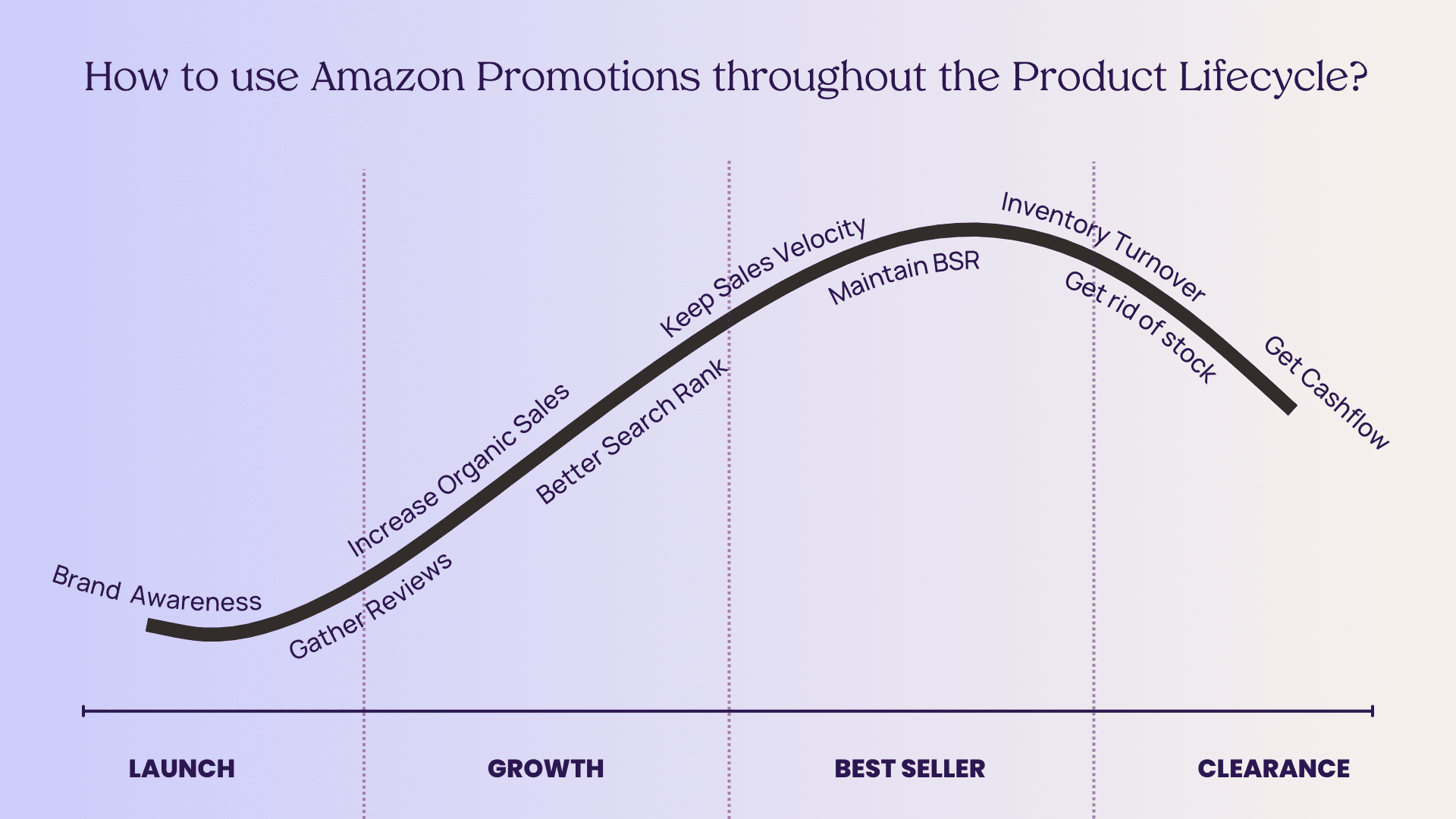 Amazon Promotions for established brands
Established brands can utilize Amazon Promotions to clear out inventory but need to protect brand reputation too.
Clear out excess inventory
Depending on its business model many established brands do not have a lot of reasons to turn on promotions unless they are launching another product or getting rid of excess inventory.
Clearing out inventory can help make more space for upcoming launches or products. Similarly, if inventory turnover is slow, products may incur more storage costs reducing profit margins.
Another reason to clear out inventory is to increase cash flow by moving slow-turning inventory and retrieving some of the cash locked in inventory.
While established brands can leverage promotions for specific needs, too many promotions could damage their reputation.
Maintain brand reputation
Established brands can hurt their reputations due to excessive discounts. While this may not be an issue that arises overnight, consumers intuitively track brands that come on sale more often.
Premium brands need to be careful of promoting products excessively as they carry a status symbol with them. If a premium brand gets caught using promotions too much, it may suffer a loss of sales and profit margins during regular pricing or product launches. For instance, Coach, a designer brand, lost sales due to opening too many outlet stores and lost its premium brand recognition as more people started carrying it.
To avoid being called a discount brand, it is a safer option to run promotions and offers discounted prices during shopping seasons only.
Promotions during the shopping season
Shopping events such as Black Friday and Prime Day are a great opportunity for retailers to boost sales velocity, move inventory quickly, and increase revenue. For Amazon sellers, promotions are less of an opportunity and more of a necessity during the shopping season.
There are millions of sellers on Amazon who want to be more visible during the holiday season. They expect more traffic and shoppers' intent. While there are several discounted promotions during the shopping season, not promoting your products can lead to fewer sales than competitors. This leads to lower traffic, sales, and organic ranking after the shopping seasons are over.
Whether a growing or established brand, running promotions through deals or coupons is critical to keeping up with the competition. To get ahead of the competition, most brands turn on both advertising and promotions to get more visibility on their products.
What promotions to run?
Sellers should run promotions that serve their goals, or in most cases, provide the highest ROI. However, sellers won't know what promotion campaign is most effective until several promotion and advertising campaigns are run.

For example, during Black Friday, should a seller run the lightning deal, 7-day deal, or both? Deciding which one to run requires historical data on promotions, advertising, and pricing. Without any data, it is just guesswork.
Even if the seller has historical data, combining the data to understand what deal at what discount would give the highest ROI is a challenge. But by using the right tools, you can forecast a campaign's performance and calculate its total promotion costs before running a campaign — that's where Trellis comes in.
Integrating the Trellis Promotions Module
Trellis has features integrated into its Promotions module which help you identify the most effective promotions campaign for your goals.
Amazon's tools only track promotion campaigns when they are running and completed. They do not predict or assess your promotions' performance or guide you to further actions.
Trellis collects data, analyzes it, and helps you plan deals for promotion efficiency. Here is how it works.
Workflow for Amazon deals
Trellis automatically collects information through APIs gathering promotions and sales data. This includes variables such as deals cost, conversion rates, COGS, sales uplift, and sales data.
Using historical data including shopping events, our platform analyzes prices in the last 30 days, checks inventory levels, and determines deal prices and discounts. Using price elasticity models, it estimates sales, the total cost of the deal, and profit margins from the deal's campaign.
You can get real-time estimates on your Amazon Seller Central account using Promotions Chrome Extension. Simply enter deal prices and discounts, and the tool will estimate based on your historical data.

Sellers can use estimated sales and profit margins to improve promotion campaigns. If a 7-day deal gives a better ROI than advertising for 7 days, it can help justify spending on Promotions. Moreover, you can find the ideal deal price or discount/unit to maximize your ROI.
To learn more about how to analyze and forecast promotion campaigns, book a demo with our experts.