When augmenting a process, it's important to anticipate how well the new framework, employee, or tactic integrates with the current flow of business.
Interruptions could mean loss of momentum, less productivity, and failing to hit important goals.
Why adopt merchandising?
Many eCommerce stores currently focus on advertising as their primary source of growth. ECommerce managers fear any workflow or process that interrupts this process. They want fine-tuned advertising workflows to ensure good data utilization and preparedness when products are ready to be scaled.
However, lost in the planning and execution of these processes is their primary objective: to grow their business profitably. Marketing managers, eCommerce specialists, and now merchandising experts are not valuable because they run good advertising processes, they are paid because they use advertising to achieve business objectives.
For many, common digital advertising practices are sufficient but objectives are a moving target and senior leadership always wants better results. It is important for marketers to always be a step ahead of clients, stakeholders, and their bosses. Adopting eCommerce Merchandising strategies should help with this.
The good news is that despite fear of change, eCommerce Merchandising frameworks are already part of your business, you may just be conceptualizing it differently.
You likely spend more time on advertising, but pricing, promotions, and content are still part of your daily workflows. You just view these other factors in service of advertising not in service of your objectives.
By learning how to integrate a merchandising strategy into your workflow you can leverage the 4Ps towards your objective.
However, if you want a simple solution that saves you from late nights and headaches, sign up for Trellis.
How to think about online merchandising strategies?
Merchandising products online is as simple as understanding the marketing mix. By augmenting the evergreen 4P framework, we highlight the factors most important to your merchandising strategy.
These factors are:
Placement of Advertising,

Product Content,

Pricing, and

Promotions.
Viewing the 4Ps through this lens helps you activate merchandising tactics and strategies your business is already tackling.
Placement of Advertising
Traditionally, placement in a marketing strategy denotes both the time and place you plan to use to reach a target market. Similarly, placement in eCommerce is about accessibility.
Key factors in fuelling this accessibility is advertising placement, whether it is through keywords, different marketplaces, or across marketing channels. The goal is to put products in front of users when it is relevant.
While many factors go into understanding the placement of advertising some of the most important are:
Marketplace and marketing channels,

Keywords,

Bids,

Ad types,

Other types of targeting like remarketing and contextual targeting, and,

Time of day, month, and seasonality for advertisements.
All are important to attain the right attention for merchandising your products for online shopping.
Product Content
Humans who are capable and discerning usually don't select the first product they see. They consider other factors such as the product's content before making a decision.
Product Content is a representation of a Product from the 4Ps of Marketing. It is important to consider how, and what, to communicate. In a world like Amazon, noticeable product differentiation is hard to come by.
The competition is fierce when you're next to pages of other brands. It is vital to optimize product content to match the expectations of customers when creating an online merchandising strategy.
Making the sale depends on:
Quickly establishing your brand and its benefits,

Highlighting unique features in your title and A+ content,

Maximizing the number of positive reviews,

Strong visual merchandising, and

Refining the aesthetics of the listing through images and by meeting Amazon's best practices.
Done right, you should see organic reach while also increasing the effectiveness of the Placement of Ads through better conversion rates. Optimizing these 2Ps makes up a large part of what advertisers do today.
Price
Sometimes overlooked, pricing is a huge driver of purchasing decisions. 80% of shoppers say they compare prices before purchasing a product. It is vital to consider your price in your eCommerce merchandising strategy. When building one, understanding your price elasticity across your catalog gives you the knowledge to take on challenges as they emerge.
In Amazon's competitive marketplace, customers have many product options and can easily compare prices. So, sellers must balance their prices to avoid losing customers or revenue. Good eCommerce merchandising also requires diligent price changes.
Promotions
Promotions provide a similar effect to what a combination of good prices and advertising does for sales. Amazon Seller Promotions allow you to engage in shopping seasons, move extra inventory, and create cash flow. They are a vital part of most eCommerce merchandising strategies even if they are used conservatively. It is important to understand how promotions might impact a campaign.
If done right, promotions draw in new users like advertising but without a fluctuation in cost per sale. A discount of 10% is always going to cost you 10% of the product's original price.
This is unlike advertising where its cost could be any percentage of the products' price when your campaign concludes. This means promotions give you exposure and increase conversions like advertising but keep the cost of the sale predictable.
Alongside this predetermined cost, merchandising specialists use promotion software to predict turnover. It models how effective certain discounts will be based on your past promotions.
This means that if you need to move inventory or generate revenue, run a discount for as long as your model suggests. This predictability gives you freedom and information in how you run your merchandising strategies and business.
Integrating the 4Ps into your business
Understanding the 4Ps and their importance is one thing, but how can an organization structure them to achieve active business objectives?
Setting KPIs for your eCommerce Merchandising strategy
To start, create KPIs that connect with your objectives. Based on these KPIs you can start to evaluate how to use a P to meet your goals.
Depending on your objectives, your KPIs may be different but we recommend starting with establishing KPIs for:
CPCs,

Total Sales, and

Return on 4P costs which can be represented in a number of ways like Profit margin, ROI, or RoAS.
Then set benchmarks to build a spectrum of suitable criteria for your 4Ps. Ideally, this criteria is realistic and based on your current performance.
These benchmarks will allow you to segment your 4Ps to optimize the variables you are already trying to improve, whether it is identifying a set of keywords, a range of prices, or a type of discount.
As you strive towards an objective, you can optimize these in the way that most actively contributes to your objective.
4P Segmentation
At a high level, this means identifying which prices, promotions, placements, and product content are good for certain objectives. For example, a business focusing on profitability may only use keywords with the lowest ACoS and highest prices for healthy profit margins.
However, this often comes with a trade-off. In a scenario where a business only wants to use its keywords with the best ACoS, the business has to accept that sales may slow down, as the keywords with the best ACoS could be a few niche search terms without a lot of traffic. This can hinder marketshare growth.
This stresses the importance of 4P segmentation; it allows a business to be flexible and approach challenges in different ways rather than using the same keywords, ad types, prices, and promotions for every objective. Below, we show a simple example of segmentation that you could do using your established KPIs.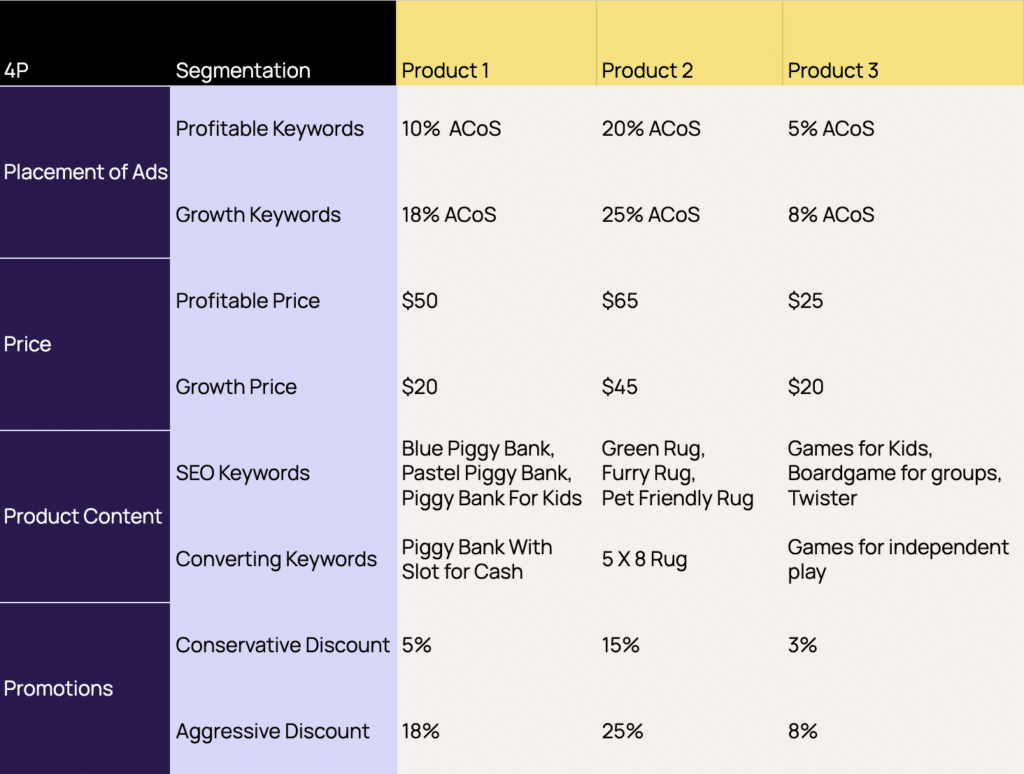 Want to run a profitable campaign? Take a look at your ads with the best profit margins.
Want to clear some inventory? See what types of promotions sell the most.
Have a trending product that you want to maximize? Use the price that provides the best total sales.
By adding a third, fourth, or fifth row to each section, this framework allows merchandising experts to segment their 4Ps on a spectrum accounting for gray areas in their objectives. A relevant practice for an organization with a timeline to move inventory but not immediately.
In such a case, optimizing for profitability may be too slow but optimizing for turnover would be too fast sacrificing more profit than necessary. So, an organization looking to find a middle ground, might use a spectrum to find their goldilocks zone. Selecting product content, promotions, pricing, and advertising that fits this middle ground.
Taking Action
With your data segmented, how can you build a practical workflow to action it?
Labelling your products
Not every product in your catalog is a best seller. Some products are new while others are overstocked. By labelling your products, you start to associate an implied objective with each product. This objective becomes a north star for each 4P getting them to work together.
Building workflows around your classifications takes some work to start, but once you get the hang of it, you will understand the role each product plays in your business.
To streamline this workflow, some labels can be entirely data-driven. Whether you use stock levels, the product's "newness," or how well it sells, you can create thresholds to decide what role products play.
Taking things one step further, if there is an urgent business objective, you can adapt all products to meet an overarching objective.
Product Goals
These are goals that you have to guide optimizations for each product.
Best Sellers
For mature brands, they should have a pretty good sense of what their best sellers are with a few joining the pack once in a while. Identifying your best sellers not only helps you to quickly distill which products you should spend more time on but should allow you to organize your 4Ps to support them.
For some, a best-seller would connote a campaign that should have balanced ACoS, Goldilocks pricing, and conservative promotions to maximize overall profits. This can vary depending on your business, but by adapting the 4P framework you streamline how you take action.
New Products
Products that launch on places like Amazon often need to go through a "warming up" phase. This process includes data collection, getting reviews, and improving the products' BSR.
Expecting your products to hit the market like the latest Call of Duty or a Taylor Swift album may set you up for disappointment. Merchandising products takes time and having your 4Ps segmented in a way that helps build momentum is important.
Leverage the 4Ps to generate sales for your product and once you've seen it in action you can determine whether it's a best seller or it's time to clear it.
Clearance
Holding onto a product can be costly, and clearing products that won't sell at a regular price can help generate cash flow for other marketing and business activities.
By leveraging the 4Ps, predictably move inventory to help with finances at a business level.
Low on Inventory
To avoid being penalized for being out of stock and to make the most of your current inventory, maximize your merchandising around these products by raising prices, removing promotions, and focusing on converting keywords.
Organic Growth
Improving best seller rank (BSR) and SEO are two major ways to increase your Total Sales. By fuelling consistent sales through advertising and promotions you can improve your BSR to easily be found among your competitors. In tandem, updating your SEO content like reviews, product titles, and images helps increase clicks and traffic to your products.
Repeat Sellers
Repeat sellers often have high margins as another product has built familiarity with the brand creating good conversion rates overall.
For many sellers, this can be an opportunity to cash in with profit-focused 4Ps. Finding low ACoS campaigns and high-profit pricing can help you take advantage of these opportunities.
Business Goals
While the 4Ps help with achieving specific product-level objectives they can also help with larger business-level situations that require adjustments across the whole catalog.
Cash Flow
To stay cash-positive many organizations will implement lower prices and more aggressive advertising to decrease customers' hesitancy and increase sales.
Cash flow helps organizations stay secure and can even help when they need to leverage cash to expand.
Price Sensitivity
Under certain economic circumstances, customers may become more sensitive to price and a product's value. Promotions help increase perceived value while adjusting product content to reflect converting features and benefits can get more customers to buy from you while staying profitable.
Shopping Seasons
During shopping seasons like Prime Day and BFCM, customers expect promotions. This often means that consumers are not going to be willing to purchase products from brands that aren't discounting their products.
During these seasons, brands can shut off their ads and wait these days out avoiding costs associated with low conversion rates. Those who are looking to generate growth use these opportunities to heavily discount and advertise their products to compete.
Depending on your strategy you can alter your 4Ps to match your desired outcome.
Brand Protection
In highly competitive industries or as a category leader you may want to protect your brand with brand advertising, low prices, and strong SEO. This keeps you in the conversation and allows you to set the bar as a leader forcing your smaller competitors to make disproportionate sacrifices to enter the market.
Growing Market Share
Using the 4Ps to accelerate sustainable growth is one of the most common objectives. Growth-focused pricing, advertising, and promotions with an eye on profitability help.
Executing your strategy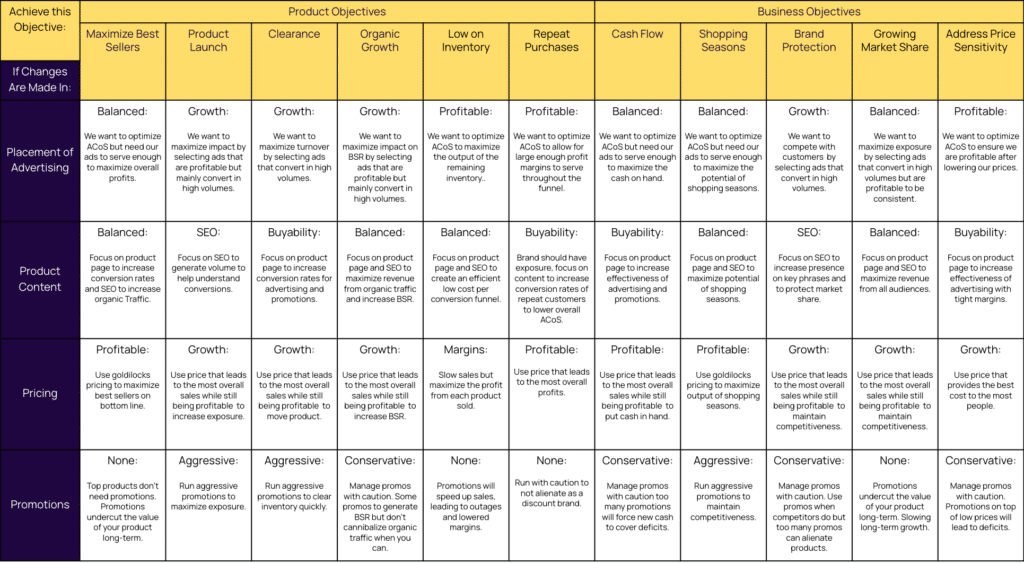 By associating 4P metrics to each objective and each objective to a product, you leverage the underlying Ps to stay flexible and effective.
Ultimately, by using an eCommerce merchandising workflow you are able to sell your products with a much more nuanced approach leading to better product utilization and stronger growth.
Instead of selecting a range of keywords and picking the promotions suggested by your marketplaces, use your 4P segmentation to select the right variables to maximize your desired outcome, at a moment's notice.
Now that you know how to fit the 4Ps into your merchandising strategy you can either build the data sets to effectively start yourself or understand how our eCommerce Merchandising platform truly saves you time.
Trellis takes in high-level input from you like max ACoS, minimum price, and desired profit margins to segment the data for you and to support different products accordingly. We have automated product tags built into the system like best sellers, overstock, and low inventory as well as workflows to launch new products.
Learn the other ways that we ensure that our automation properly leverages your merchandising strategy.